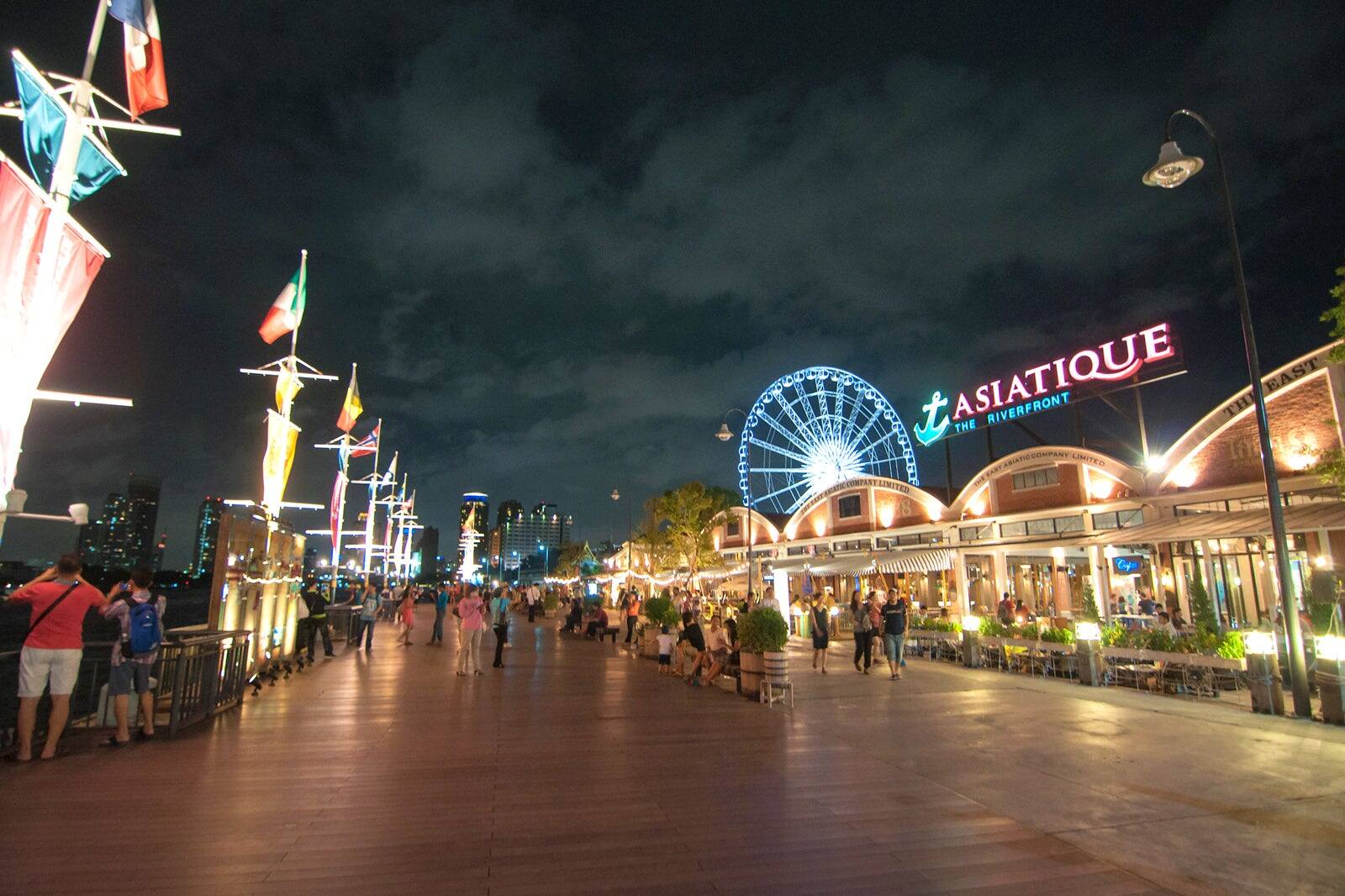 ---
PRIVATE TOUR

Available Every Day

From

$45

per person
Price varies by group size
---
Bangkok is a 24/7 City
You'll find Bangkok busy and full of life, especially at night.
When the heat goes down, the 'night places' come alive and the atmosphere changes to this special night form.
However, Bangkok at night can get a bit challenging for some western travelers, trying to find their way on the tangled streets of the big and hectic city.
Many streets of Bangkok have a cramped and chaotic feel, especially for first-time visitors or any of you coming for a family vacation with your kids, might get overwhelmed amid the colorful sights and seductive smells.

Bangkok Night Tour is a journey along the Chao Phraya River
We handpicked 3 of the most interesting and diverse locations scattered alongside the Chao Phraya River.
Two of them are more popular and one is totally local and Authentic.
Sightseeing through a perfect combination of spots, enabling you to see the different sides of Bangkok nightlife.
We start with the surprising Asiatique,
An open-air shopping center located on the Front River with breathtaking views at dusk.
Then we continue to the colorful local Flower Market,
where we get to see not only flowers but different sorts of interesting yummy fruits that may be new to the westerner's tongue.
Finally, we end up at the famous Khao San Road for a cold beer, fun Pubs, and restaurants.
On the way, we get to see other beautiful Bangkok highlights such as The Giant Swing in Bangkok and Wat Arun (Temple of Dawn).


DIY Night Tour is Possible
Each of the sites on this tour can be reached by yourself. However, you might spend a lot of time finding your way in the streets while moving from one place to the other.
With Tourist Thailand you get private transportation & guide – You save so much time and money. The guide points out the important and interesting places, allowing you to fully enjoy each spot you visit.
BANGKOK NIGHT TOUR – ITINERARY
ASIATIQUE The Riverfront
We start our Bangkok Night Tour visiting ASIATIQUE The Riverfront. Located on a beautiful spot with an amazing view at sunset, a perfect time to enjoy the combination this place offers; shopping, dining, sightseeing, activities, and events under one roof.
The strong cultural aspect is what sets it apart from other shopping malls. Asiatique is Embracing history, but avoiding the cultural clich้s and traditional symbols, it strikes an accurate balance between tradition and globalization allowing tourists to enjoy both Asian and European atmospheres. Our tour guide will point out for you interesting spots, where you can find the cultural local perspective merged in progress
FLOWER MARKET BANGKOK
We continue our Bangkok night Tour heading to the local Flower Market just when it wakes up. A beautiful wholesale flower market serving the whole region from flower vendors to florists vast selection of fresh vegetables, fruits, and typical Thai sweets. The merchandise is transported from Bangkok at night, to the neighborhood markets around the city for sale in the morning. 'Pak Klong Talad' is the most important flowers & Vegetables wholesale market in town.
Very interesting and enjoyable experience wandering around the stalls, watching the vendors prepare bouquets and flower garlands, and take in the lively atmosphere. Our tour guide will walk you through this huge place, enriching you with the cultural local perspective.
KHAO SAN ROAD
Our final spot for this night tour is the popular Khao San Road, a famous destination for travelers and budget tourists from all around the world. Countless newspapers and magazine articles have given the 'Khao San Road' a solid niche in the world's popular tourist spots. The place looks like an ongoing party and the surrounding area is a maze of hotels, guesthouses, and travel agents. The Khao San Road night market wakes up when the sun goes down, and that makes it a good place to end this tour, having fun in the restaurants, pubs, and clubs located on the road itself, or just a few minutes away. Our tour guide will show you the best spot to stop and get a drink or eat before heading back to your hotel.
TIME TABLE – Bangkok Night Tour
18:00 – Pickup from your hotel

The Surprising Asiatique, an Open Riverfront Mall
The Colorful Flower Market Bangkok
The Exciting Nightlife of Khao San Road

23:00 – Back at your hotel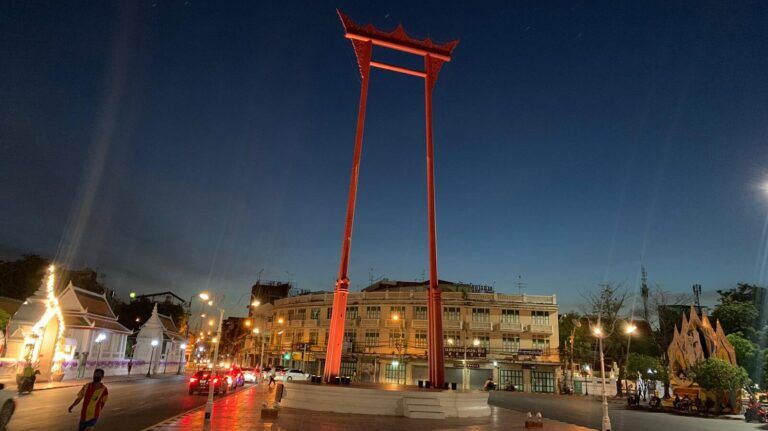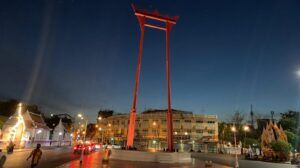 The Giant Swing was constructed back in 1784 in front of the Devasthan shrine by King Rama I.
It's made of teak wood from the Phrae province in northern Thailand. The 21 meters (69ft) tall Giant Swing is a Brahman religious structure, originally used as part of a ceremony during the Brahman Festival. Brave men would swing themselves as high as they could hoping to reach up to a bag with gold coins that hung up there.
Wat Arun, known by the Thai people as Wat Chaeng. It is definitely one stunning landmark temple on the Chao Phraya river of Bangkok. You may think it's because of the riverside location, but there is much more to it.. This temple design is different than other Thai Temples you'll see in Bangkok. Wat Arun (Temple of Dawn) is colorfully designed and decorated with some spires giving its special look while it stands majestically over the water.