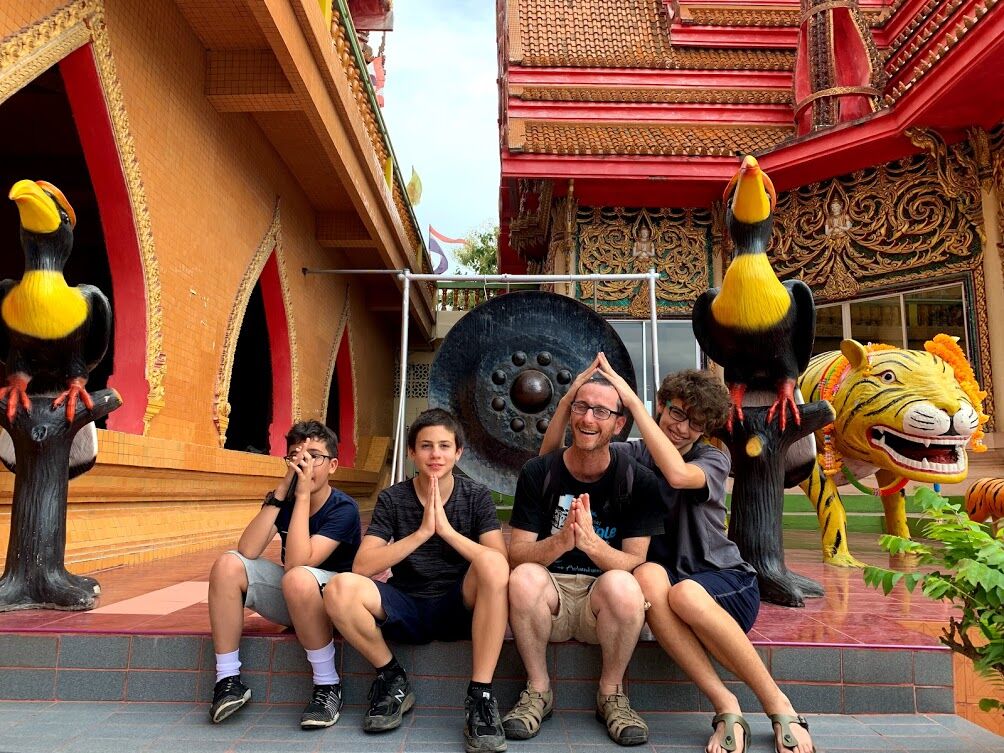 Traveling to Asia for the first time with kids can be a bit intimidating.
Health and safety concerns can be troubling when thinking about traveling as a family:
What vaccines and medications are required?
What if someone gets sick?
How to deal with food the kids are not used to?
How to overcome jet lag?
And more..
Planning a fun, interesting, and educating trip, regardless of the age difference, can be challenging!
We, at Tourist Thailand, are here to help you make everything easier.
Because actually, Thailand IS JUST TOO PERFECT FOR FAMILIES TO MISS OUT!
A family vacation in Thailand is a lifetime memory for you and your kids to look back at
Beaches, Mountains, Elephants, Rafting, amazing Ziplines, Sparkling Temples, Bustling Markets and.. you name it!
There's something for each and every age range!
First Arrival (especially with kids) is Unforgettable
Landing and facing a different culture is an amazing experience. The children are amazed to experience the hectic crowded, and fascinating streets of Bangkok.
Seeing the interesting combination of a very modern 'Sky Train' running above the city and over narrow streets with poor little huts is one initial experience.
Then, the food stands packed with unusual dishes and strange-looking fruits.
The different sounds and smells of this new and unfamiliar place are absolutely fascinating for adults as well as for kids.
Your Family vacation in Thailand is not only a great vacation but also a very valuable part of a child's education.
The kids get to encounter some fascinating cultural and historical highlights. Children seem to be amazed by the spectacular temples, different religions, and vivid history. It is all interesting and visually displayed which evokes the imagination and understanding of the children.
Families who travel to Thailand with their kids realize that Thai people really love children, more likely little foreign kids who attract lots of attention from the locals.
Teenagers are always surprised and happy to discover that Thailand is well equipped with WiFi and you will find that it offers many indulgences for the whole family to enjoy.
Considering the bonus fact that everything is quite cheap and very much affordable. You travel like royalty, Feel totally relaxed when the kids want another ice cream and more indulgences.
GREAT NEWS!! 15% Discount for kids in all of our Family Packages.
Check it out with us for more details
Activities for Families and Things to Do with kids
Thailand offers absolutely unique experience for kids. It has so many exciting things to do.
Elephant Riding and Bathing
Feeding Monkeys
Rafting on Bamboo Rafts
Tree Top Zipline
Cooking and Eating Thai Food
Beautiful Beaches
Canoeing into Caves
Museums
Shopping and so much more..
Treetop Ziplining
Kids just love this extremely exciting activity.
They just love the rush of Adrenalin flowing through their bodies while flying between the trees and conquering fear.
This is fun for the entire family, not just for kids.
Longtail boat through the mangrove forest into the local habitat of monkeys
Long Tail Speed Boat is basically the fishermen's boat that kids are so excited to ride. It is rather fast and you can feel the water so close. Once near the forest we slowly enter into the Mangrove Forest, visiting a natural habitat of monkeys. Encountering the monkeys, feeding them, looking into their eyes, and communicating with them.
Rafting on bamboo rafts
Taking the bamboo rafts is like entering into an old movie. Calmly 'sail' down the river, stop at beautiful spots along the way, relaxing and enjoying a good swim. Kids' imagination immediately comes to life with Huckleberry Finn and all the legendary stories they love.. Then jumping into the water to refresh and return to the raft, again and again, is all they need.
Bathing with Elephants
The first encounter with the Elephants is unforgettable. Being next to them, touching them, AND taking care of this fascinating animal (Help wash them in the river) is a great exciting adventure for the kids.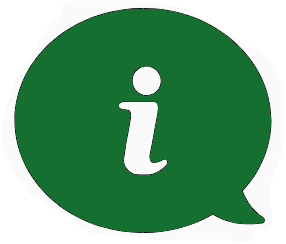 FYI: In Northern Thailand, you can visit a unique Eco Elephant Farm, where you can:
Visit Elephant Culture Museum
Walk-In The Nature Garden
Follow the Elephants down the river where they Bathe Under Waterfall
Feed The Elephants with Herb 'n' Fruit Balls Bananas
Make Nutritional Vitamin Balls for the Elephants
Help the owners with the Elephant Poo Paper Production
Authentic Unique Hill-Tribe Villages
Not many places in the world are left where you can meet authentic Tribes so close to modern life.
For us westerners, it is such an amazing experience to see this different culture, to meet the people in their village, where they live their lives so close to nature just like centuries ago. Visiting these tribes with your kids and teenagers is opening their eyes. They turn to get some perspective for their own lives, and start appreciating all the comfort they have back home
National Parks and Beautiful Waterfalls
Thailand is such a green country with lots of water, especially Northern Thailand but not only.
This is a great opportunity to get your kids out of the screen and hike in beautiful nature instead.
The waterfalls are usually very easy to access, there isn't any long trek in order to enjoy them, and you can choose the trail that suits your wishes and needs. The trails are suitable for all ages from the youngest to the oldest.
What usually happens is that the kids lead the way, urging their parents to move on..
Beautiful Picturesque Greenery Agricultural Farms
Not many kids today get to see how vegetable plants grow and how they manage to 'magically' show up in the Supermarket. There is a good opportunity here, to see Farms and Fields of local Agricultural crops such as Tomato, Asparagus, Cherry, Coffee, Coconut Farm etc.
Beaches and Islands
Obviously, there are beautiful beaches and pools to keep your kids entertained in Thailand. Many resort hotels have their own kid's clubs, babysitting services, and all sorts of play facilities.
Kids love to be on an island, most likely a small island is preferred. Going there by boat, the warm and tranquil water, swimming, kayaking, and exploring these coves, all make the stay on an island exciting for them.
Teenagers, on the other hand, enjoy the freedom and independence they can safely get. Walking around the sandy beaches and streets of the little town of the island, the parents can enjoy the peace and quiet.

Phuket With kids
Phuket has the perfect combination for families with kids.
For that reason, we chose Phuket as the ultimate Island for family vacation and traveling with kids.
On one hand, it has beautiful picturesque white sandy beaches and nature still has this wild feeling we seek when spending time on an island. On the other hand, it has diverse and interesting activities for the kids and for the whole family, so that they don't get bored and drive us (parents) crazy as a result.
Check out this partial list down here of activities in Phuket. just to get an idea:
Phuket Trickeye Museum
Surf an Artificial Wave (Several Water Parks to choose from)
Bawling
Visit an Upside Down House
Wake Park (Wakeboard and Cable Ski)
ZipLine Park
Ice Arena with Ice Skating
Climbing Wall
Rollerball Zorbing
Mini Gulf
Karting
Underwater Aquarium
Horse Riding
ATV Riding in the Mangrove
White Water Rafting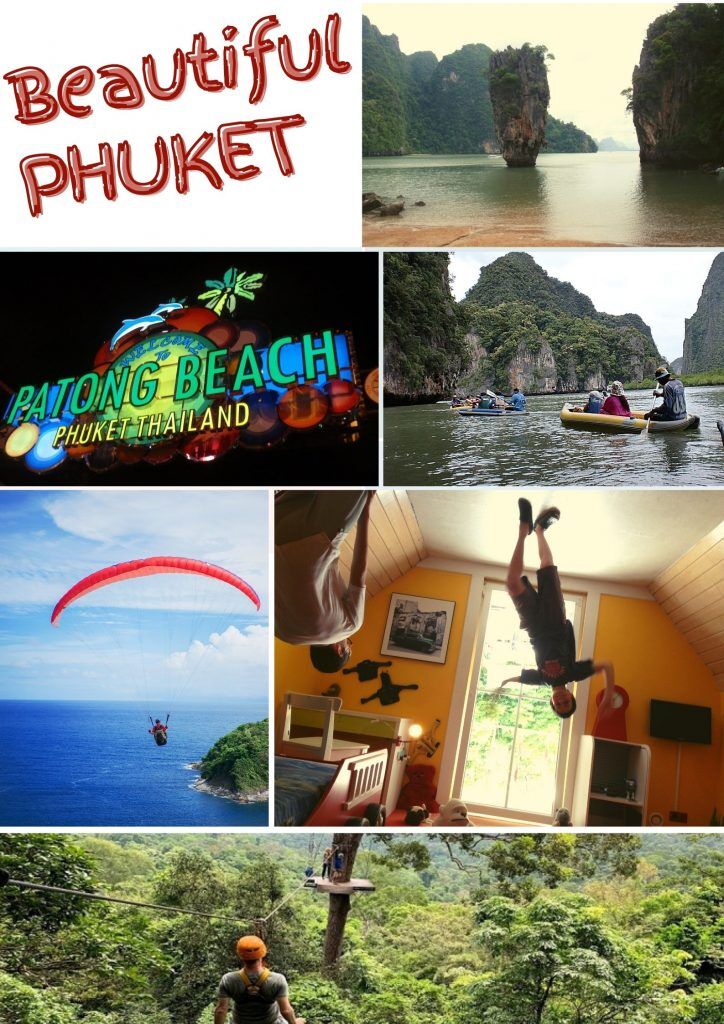 Health and Safety Tips with Kids in Thailand
Keep your kids well hydrated because of the heat. Water is the best, but there are a variety of fruit juices, including fresh young coconuts or lime juice – Many kids love those.

Make sure your kids wash their hands frequently (Covid19 virus taught us well)

because of the humid climate, it is recommended to take frequent showers and powder afterward to reduce skin irritation.

Prepare your kids to the fact that if they come across cute animals on the street or at markets (such as dogs, cats, rabbits, monkeys) they can not pat and play with them, as rabies is relatively common. However, If you meet animals on a farm where they're taken care of and treated with care and respect, it should be fine.

The big Thai cities are hectic, crowded, loud and can be a sensory burden for the little ones. Draw some family street safety guidelines before you go out there, as it can be difficult to focus on your instructions amid the street noise outside.
In some small areas of Thailand, especially in the south (such as ko phangan) Dengue can be a concern. So if you plan on going there, be sure to avoid mosquito bites. Repellent creams are very easy to find at 7-Eleven and other convenience stores.
Only drink bottled water. Fruit juices and shakes with ice should be safe, but this is a question of how delicate your children's tummy is.

There are plenty of modern and advanced pharmacies that will advise and sell you drugs without any prescription.
Thailand with kids – Eating and Tummy problems
Surely this is one of THE most common worries when traveling with kids to Thailand and the countries around. Of course, it is always important to take care and be conscious of what you eat and drink. BUT rest assured that most of the food in Thailand is always fresh and clean. Thailand is getting more modern and safer every year.
The restaurants we choose for our travelers are kids friendly.
Eating salad and garnishes is fine likewise eating at street stalls, where you'll often find the best food, It's light, very fresh, healthy, and delicious. It's cheap as well and available everywhere.
Friendly Yammy Thai Food For Kids
Gai Tahng/Tort (grilled/fried chicken)
Kow Neeo (sticky rice)
Gai pat met ma moo ang (chicken stir-fried with cashew nuts)
Kai jeeo (omelet)
Pad-Thai (noodles with chicken/beef and egg)
Fried Rice
Cow kapao (Chopped beef/chopped chicken/chopped pork with rice)
Banana Roti (Banana Pancake)
Pa Thong Ko (Thai Doughnuts)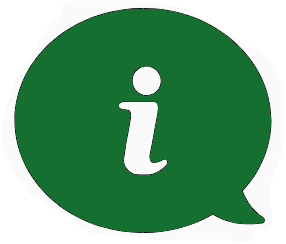 If your kids are picky eaters and it's hard for you to get them to eat Asian food, you can always find Starbucks, Mcdonalds, and pizza almost everywhere as well as plenty of mouth-watering fresh fruit on every street corner, to keep even the picky eaters happy.
You'll probably be able to feed babies and toddlers just fine as well, even if they just eat fruit, fried rice, and Starbucks.
Thailand with babies and toddlers is it safe?
If you are traveling with small kids, all our packages are hotel-based, very comfortable with babies and toddlers.
Just make sure they don't crawl on the floor, touch everything and then touch their mouths, other than that, you will be fine.
Our tours have very comfortable private transportation, and most of the transportation companies have their own child-safety seats but they might be too small or not so comfortable as the one you have at home. Our recommendation is: bring your own child safety seat for the trip in order for you to feel totally comfortable and safe. For long rides, all vehicles have DVD player, so make sure you bring your kid's favorite movies with you.
Disposable nappies, baby formula, and most products are easy to find in Thailand but sizes are usually small. If your child wears size 3 or larger, head to Tesco Lotus, Big C, or Tops Market stores. Nappy-rash cream is sold at pharmacies.